Before you book your course, we would like to draw your attention to the requirements for starting the course. Start by reading what applies under Booking Rules. Unless all the requirements have been met prior to the start of the course and/or registration, the registration will be invalid. Under each training tab, you can read up on the prior learning and health requirements for the course in question.
Please note that it is your employer who is responsible for certifying that you, as a participant, meet the prior learning and health requirements.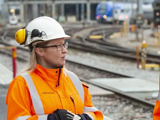 CALL-OFF SERVICES SL
"Call-off services" for Saltsjöbanan, Tvärbanan, Nockebybanan and Spårväg City refers to activities that Infranord offers to those who order call-off services. These are primarily:
Staffing


Infranord can provide protection and safety planners, work train drivers, pilots, supervisors, electricity safety leaders, train warners, other safety personnel, electric signal and track technicians, etc.

We also provide other services that might be necessary for you to carry out your work on and around above-ground tracks. Contact us at avrop.sl@infranord.se or +46 (0)771-65 65 00.Ordering other call-off services bestaellning-oevriga-avropstjaenster-2016-09-21-1.pdf (infranord.se)
Fler tjänster från Infranord